WiaTag Mobile App – NO Hardware Needed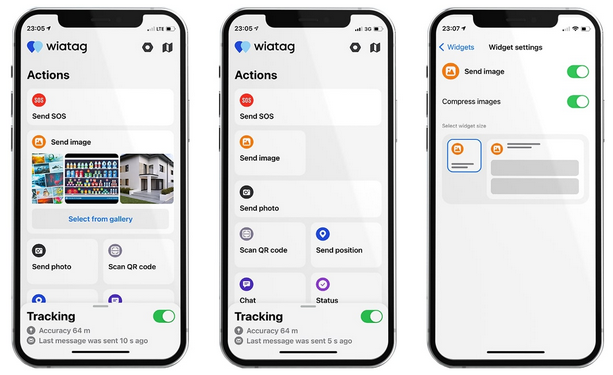 WiaTag allows you to turn any mobile Android and iOS based device (phone, tablet, netbook) into a GPS tracker.
Similar to that of the FleetPursuit GPSTag, only with added functionality such as NFC and QR Codes.
With no outlay for GPS hardware, this option provides an extremely cost-effective and flexible solution for any business.
With technology advancement, more businesses are adopting tablets and mobiles operationally to manage field personnel and infield processes. FleetPursuit has developed GPS App based technology to move with changing business needs.
Just like standard GPS hardware trackers, WiaTag App functions in the same way.
This includes the ability of full reporting for tracking, speed, route, stops, messages and images.
No GPS device hardware to purchase!
Are you currently running your field technical staff, delivery vehicles and services operation via Tablets or Mobiles already incorporating other software?
Maybe all you need or want is just a simple affordable solution!
Who Can Use This Tracking Option

WiaTag is an ideal solution for both small and large businesses, it has become increasingly utilised with:
Security
Transport & Logistics
Deliveries & Couriers
Services and Trade industries
Short-Term – Subcontractors
Sales Teams
Personal and Personnel tracking
Elderly and Child Tracking.
With the added functionality of proof of delivery (POD), it can be easily managed through the images function – with WiaTag you can also scan QR codes.
Other functionality included is the sending SOS messages and the ability to setup custom message parameters for reporting items such as Trip Mode – Business/Private for log books.
Chatterbox

The optional 2-way functionality of the FleetPursuit "Chatterbox App" provides the added ability to send information to drivers securely by office staff. All Chatterbox messages and images are both reportable and exportable also.
Main Features Summary

Compatibility with Android and iOS tablets and mobiles
No need to purchase GPS hardware or pay for installation – saving you time and money
User-friendly, intuitive interface, easy setup – we do all the work for you!
WiaTag functions like normal GPS devices; i.e. track, trace, speed, time, geofences, stops, parked and will also track personnel that are on foot as well – complete with full reporting capability
Ability to send messages, PODs, SOS and images securely to our management and monitoring platform
Added functionality of NFC or QR codes
Customisable User modes
Chatterbox option to communicate 2-ways between the WiaTag user and the office to easily keep up to date with jobs or issues
Ideal for short-term needs – rent it from FleetPursuit for 3, 6 or 12 months as needed
Customer Service – Keep customers up to date with FleetPursuit's "one-time" customised dedicated Locator Link
The WiaTag is also ideally suited to be used in conjunction with the Logistics app – a truly end-to-end delivery solution.
If you require more basic: check out our GPSTag App.
WiaTag primary features:
Choosing preset mode (Active/Standard/Lite) or creating your own (Custom)
Enabling power saving settings
Quick access to sending location, photo, and SOS messages
Optional WiaChat function that allows for 2-way communications – captured securely in Sniper
Collection of data using smart mode for efficient battery consumption
Capturing QR Codes and NFC (Near Field Communications)
Flexible settings for data sending
Google Fused usage for location determination.
LET'S WORK TOGETHER
Contact FleetPursuit to discover more about our GPS vehicle, fleet tracking & asset tracking management solutions and how we can help you improve your operations and save you money.
Headquartered in Brisbane, Queensland our services are available throughout Australia and New Zealand.
Speak with our solutions experts today and see how FleetPursuit can help you.